You are new to TourSolver and want to find out more about what it can do?
You already use TourSolver for Windows and want to find out about new features offered or under development in the Cloud version?
Discover TourSolver's main functionalities as they are now, or those coming soon…

See all functionalities currently available
> Inserting visits in your planning
> Geographic sectorization of visits
> Optimisation and export of results
> Customer experience reporting

Find out about new features coming soon to TourSolver
Find out about new features in the next release of TourSolver…

What's new?
Discover the recent novelties of TourSolver by reading the release notes. Click on the button below to learn more:
---

AVAILABLE NOW!

 A unique user experience
Your first route optimisation in four simple steps...

Set up your first route optimisation in just 4 easy steps:  
My activity
Define the country in which you are working, the terminology you wish to use, so the tool talks your business-specific language: this will include the type of vehicles you deploy, and application preferences so TourSolver becomes YOUR very own business solution, customised for your needs and business strategy. If necessary, you can also manage your worksites
My resources
Create your team in just a few clicks, including characteristics for resources such as location, working hours and the main constraints to be applied.
My visits
Import or drag-and-drop your file of customers to visit. This might be possible from an existing template or model. These customers will have their map locations stored as geographic data and will be ready to be optimised.
Optimisation and results
The optimisation engine will calculate the best solution and present the results that you can then export in various formats
... 2 simple steps the second time you use the application! 

The second time you use TourSolver, there will be no need to redefine your business activity or your resources, so long as the information stored has not changed.
Save time so you can move forward with your core business strategy. In just two steps, import the next visits directly and optimise them. View the optimisation result before exporting it for deployment in the field.   
A step-by-step guide introducing basic notions in TourSolver
Basic operating guide to TourSolver
At the bottom of the page you will find a help tool that is available at all times.

Click on the fold-out pane to access a series of stepped guides, classified by theme, and following the logical sequence of the four main TourSolver interface pages.

 

A second tab, 2-minute training, takes you to four guides covering the main tasking operations in TourSolver, to ensure you can get up and running in no time.

Allow yourself to be guided by the steps in the tutorial, taking time to read helpful hints and tips along the way.
Keyword searches
You can also search a guide using keywords, via the search bar in the pane, highlighted in the illustration below.

 

The search engine can recognise keywords it finds in the guide descriptions, but also make logical links between the available guides to facilitate your search.
Licence status
There are three levels of licence for TourSolver: Trial (trial version), Standard and Premium. The catalogue of guides available in the help pane will vary depending on the type of licence you have purchased.
Remember you can always check what type of licence you have by clicking on My TourSolver license.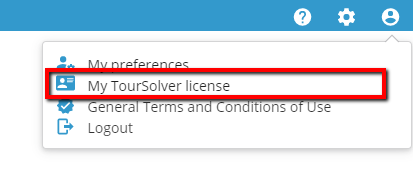 Personalised Guides
We often have occasion to create personalised new guides, as and when required by our customers. If you find you need a new guide for your particular scenario or business project, please do get in touch with our technical team, and your suggestions can then be taken into account for the next update published.


 My activity
Describe your business in a few clicks, and any preferences for using the software to ensure maximum efficiency.

Country and geographic coverage
Choose your default country for using TourSolver. This will be indispensable for the localisation of addresses in the map and to maximise route optimisation performances.

TourSolver now covers 230 countries: that's a target population of 7.2 billion inhabitants!
In addition countries, users in Bangladesh, Bhutan, Maldives, Nepal, Pakistan and Sri Lanka are now part of the TourSolver community. :)
TourSolver is now almost worldwide!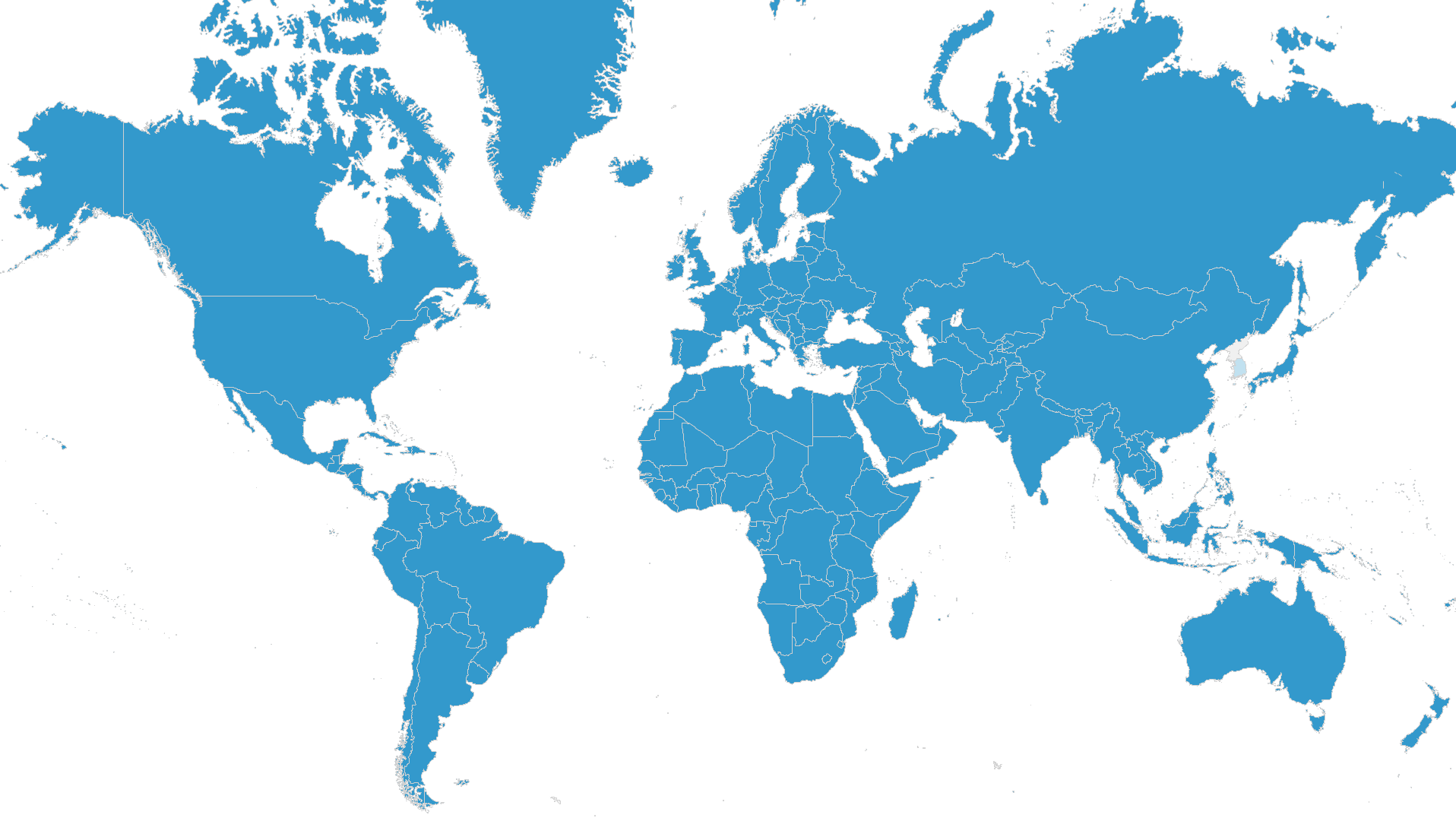 Custom terminology
When you choose your business activity, this will determine the default terminology for the whole of the application.

Terminology used in the application can be customised to suit your preferences: each main key word in the user interface (Resources, Visits, Sites, Simulations) can be modified according to a list of choices.

Vehicle type
The vehicle type will automatically set average speeds used in calculation according to routes and accessibility to the different types of routes for itinerary calculations
Several transportation modes: vehicle types or pedestrian mode

Site / depot administration
One or several sites or depots, along with their characteristics and constraints, can be defined in the application.
Optimisation preferences
The return to a starting point can be authorised or not, so several routes per day can be handled (in the case of restricted vehicle capacities in relation to collection or delivery)...
The duration allocated to the optimisation of the routes is also customisable

Date mode
Absolute date mode (based on a calendar) or relative date mode (based on day numbers)

 My resources
Define your teams of resources and their characteristics: for example, where they are based, the hours they work, etc.

Use the Wizard to create one or several teams made up of n resources, with common constraints (geographic localisations, working hours or break times, etc).
Add individual resources swiftly, either with characteristics inherited from the team, or traits that can be customised.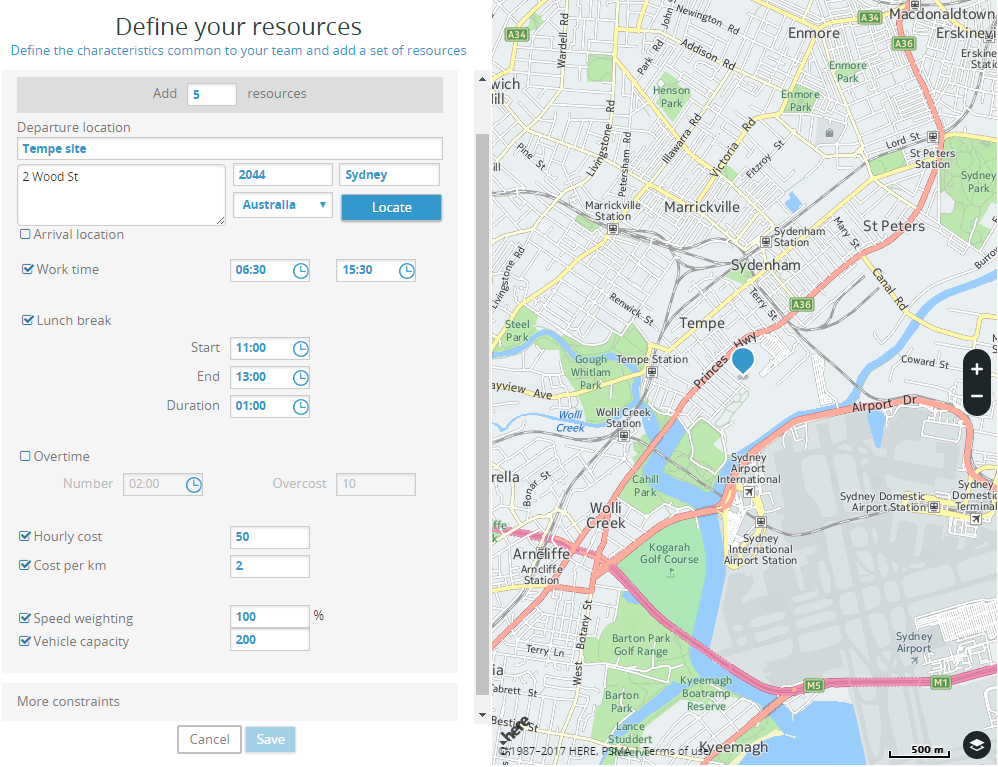 Edit characteristics specific to each resource (email address, phone numbers, working hours, capacity, etc.)
Delete a team or individual resources.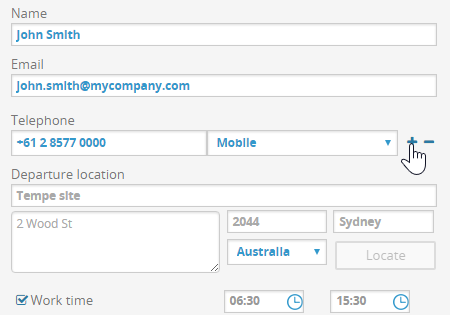 User management interface in the TourSolver mobile app: linking App users with resources
Advanced settings - Resources
TourSolver also features advanced settings for configuring operating constraints to apply when managing resources (vehicles and personnel).
 
This means you can customise the characteristics of your fleet or any other team so they closely reflect the specificities of your business in the following areas:  
Vehicles and accessibility
Team schedules
Routes (start and finish points, minimum and maximum durations) 
Loading/Unloading in the case of delivery/pick-up
Costs used further down the line for route optimisation  
Nights away in the case of multi-day routes
Driving and Drive-time legislation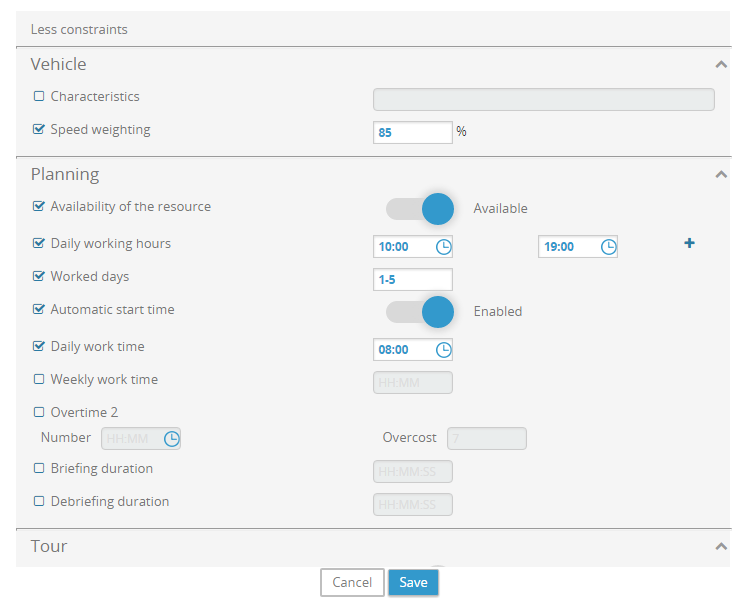 My visits

Data import
Download an Excel data model containing constraints often used in TourSolver
Download a ready-to-use sample visits file

Import visits from an Excel, CSV, or TXT file, using drag-and-drop from the file if preferred
Import visits from Google Drive (Sheets) or Microsoft OneDrive (Office 365)

Choose the spreadsheet containing visits to import into TourSolver   
Use the mapping wizard to handle data being imported into TourSolver
Adding constraints after import, where these have been overlooked or forgotten, with a unique shared value for all visits

Geocoding addresses
Instant Geocoding on address for visits, and localisation of visits on a map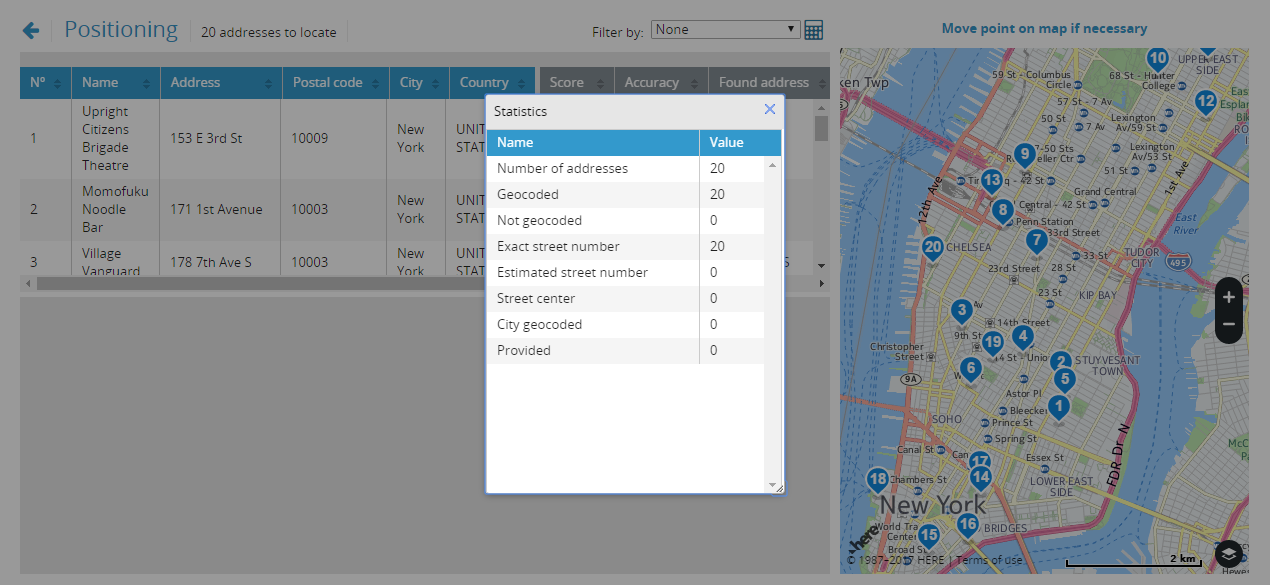 Wizard for interactive treatment of incorrect or incomplete addresses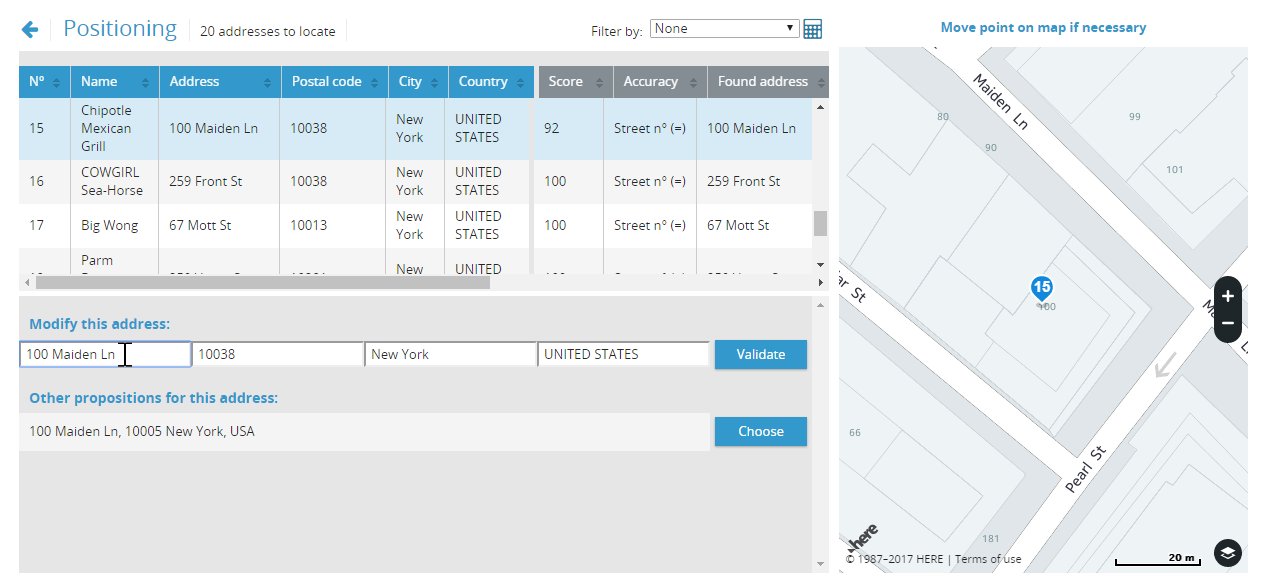 Geographic sectorization of visits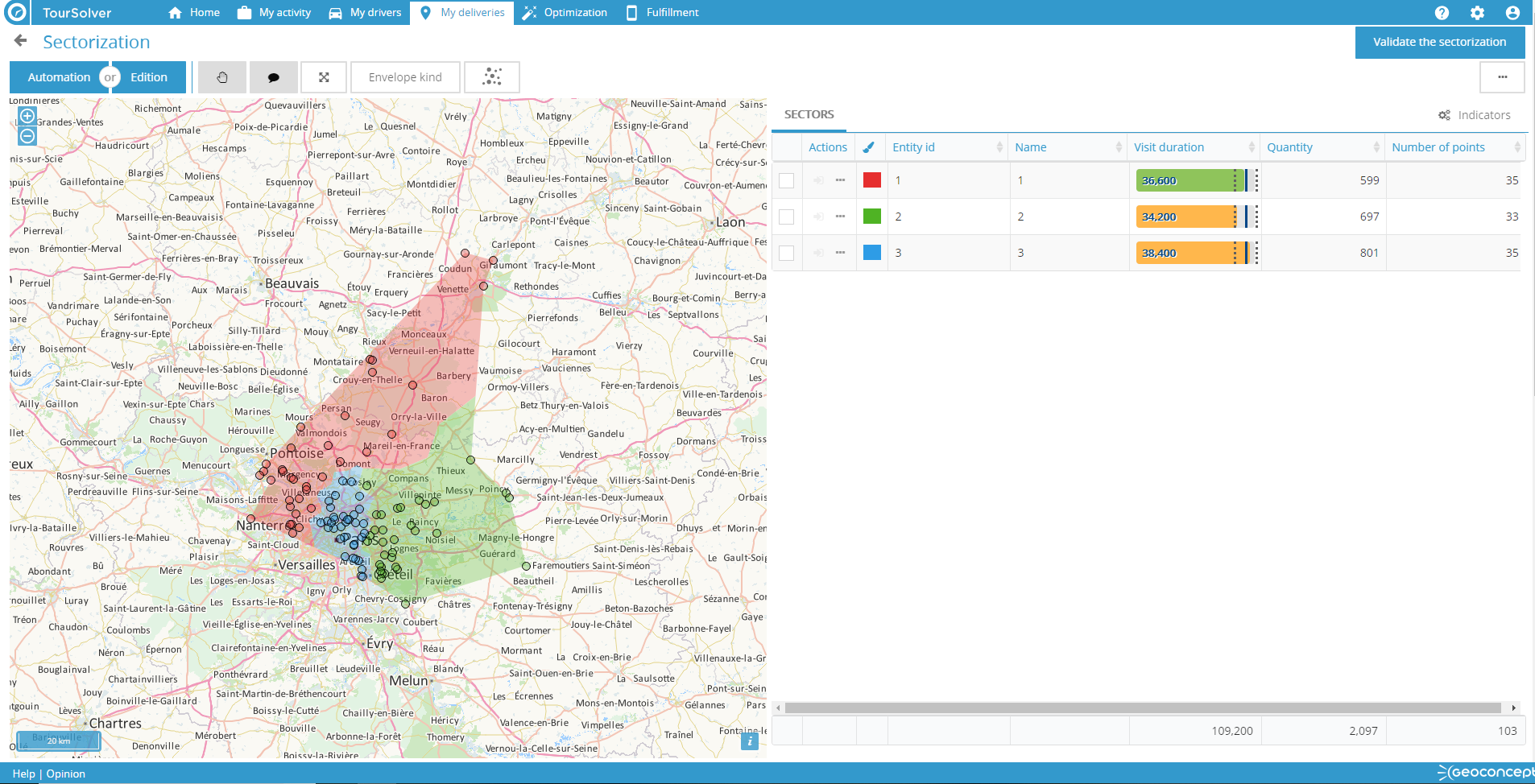 Geographic sectorization of visits imported into the simulation, before routes are optimized:

Choice of team to sectorize
Automated sectorization depending on the number of resources in a team
Sector balancing depending on the number of visits and/or depending on a balancing indicator (quantity to deliver, visit duration, etc.)
Assisted modification of the sectorization on the basis of a geographic distribution of visits by resource or group of resources
Assignment of sectors to a resource or n resources following sectorization, to be taken into account when the route is optimized

 Optimisation and export of results

Route optimisation
Confirmation of the available team and resources on start-up of the route optimization
Route status information on start-up of the route optimization

Optimization of single-route over one day
Multi-route optimization over one day
Optimization of routes over several days
Optimization of multi-site (multi-depot) routes
Tracking during the optimization of how relevant indicators such as cost, number of kilometres, etc. 
Saving of data and parameters in a reloadable simulation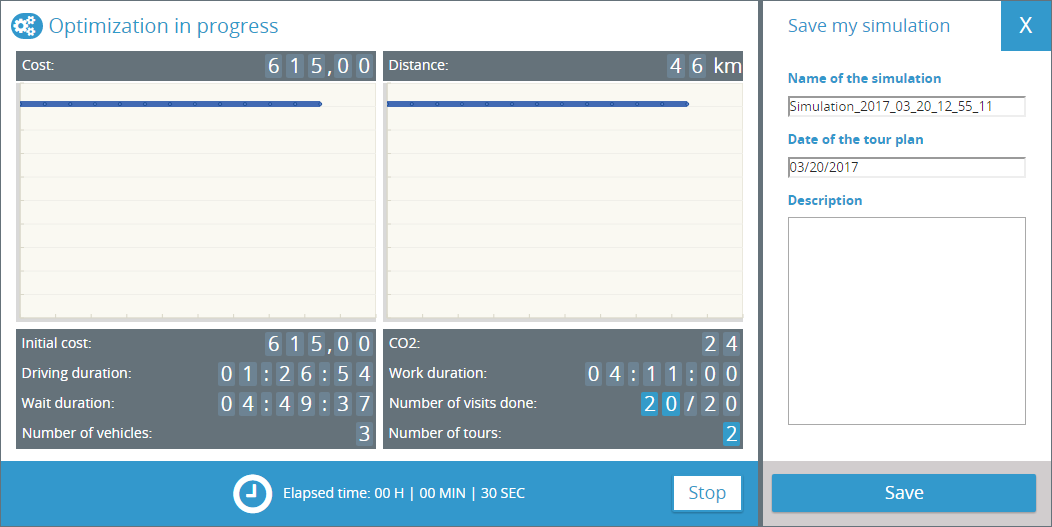 Savings simulator
Presentation of the main economies or savings made at the end of the optimisation
Option to auto-diagnose by comparing a situation as it happens and its optimised result with TourSolver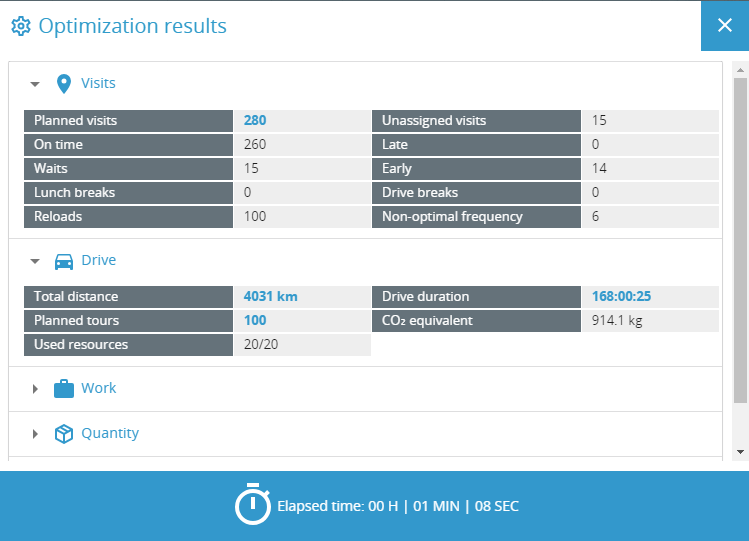 Results
Presentation of results of the optimized routes plan:

List of route stops by route 
Calendar (Gantt diagram)  
Map display of the route with route stops numbered in sequence
Detailed informations on the selection (route, resource, visit)

Filtering and coloring the routes to display in the map or in the list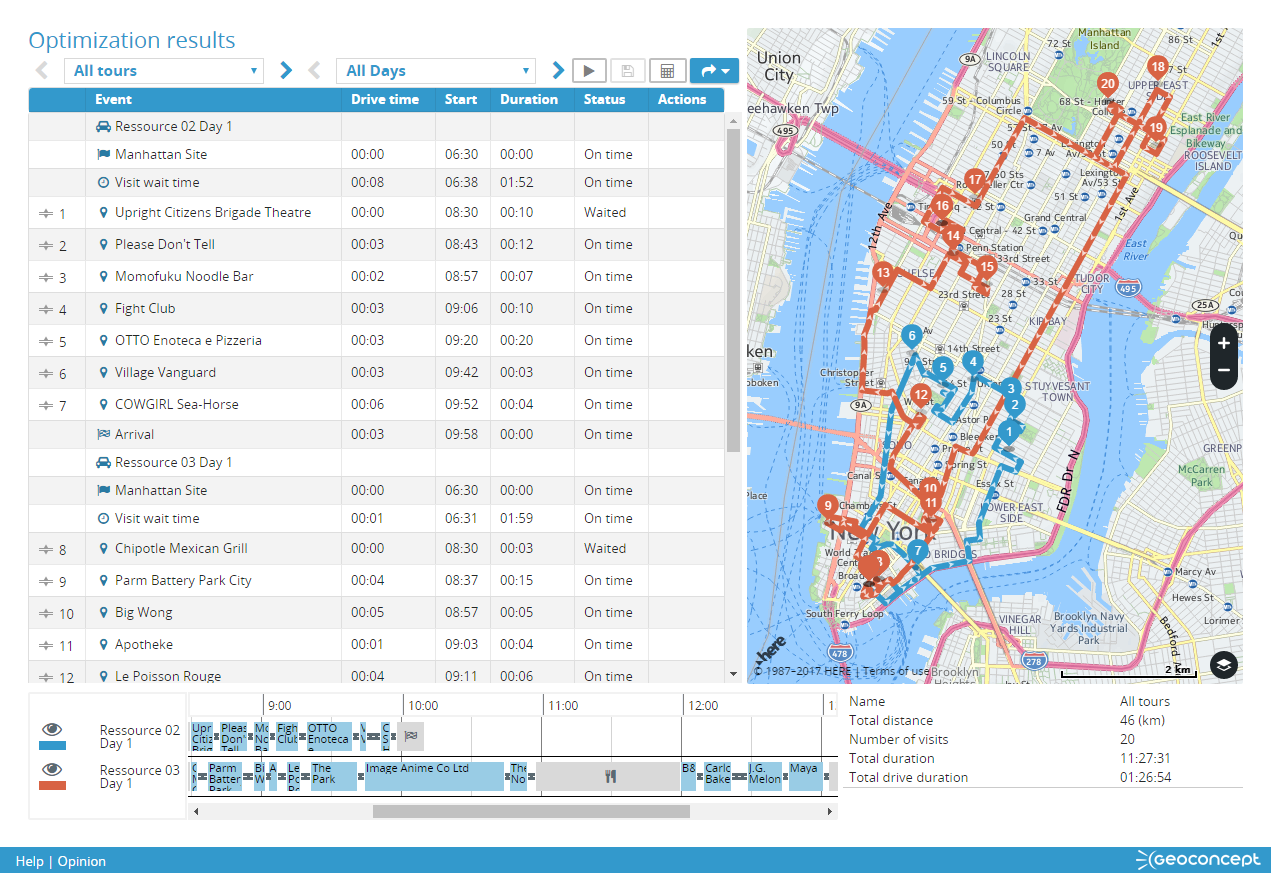 Modifying a routes plan manually
Transferring a route stop in the itinerary of one particular day
Deleting a route stop
Re-assigning a stop to another route
Verification of constraints following modification of routes
Re-optimization of the modified route or routes
Validation and publication of results to the TourSolver mobile app
Route validation: publication for TourSolver mobile app users
Mobile app users notified via e-mail of validated routes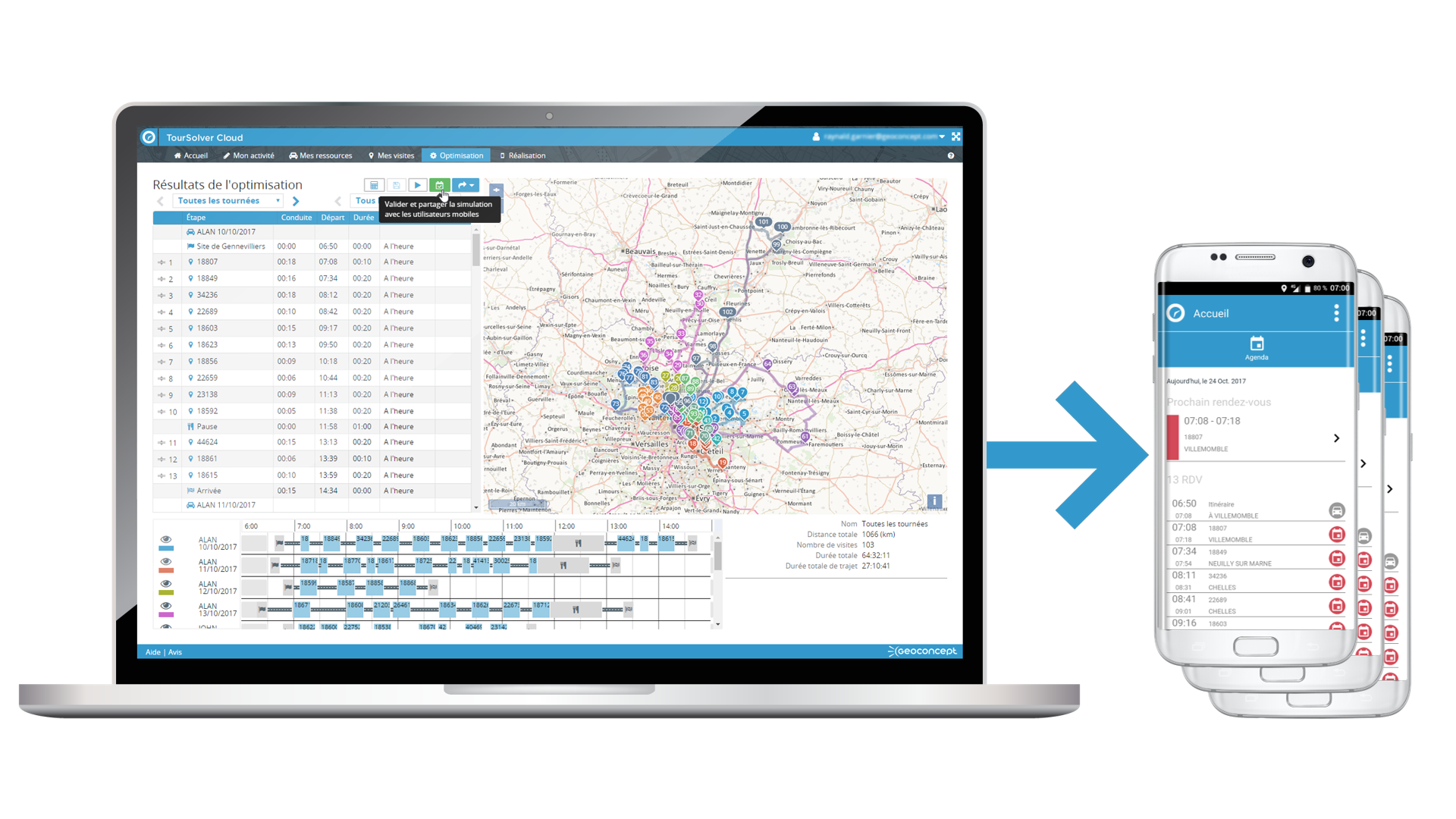 Exporting the results
Export of the road-book in Excel format (XLSX, XLS) with a map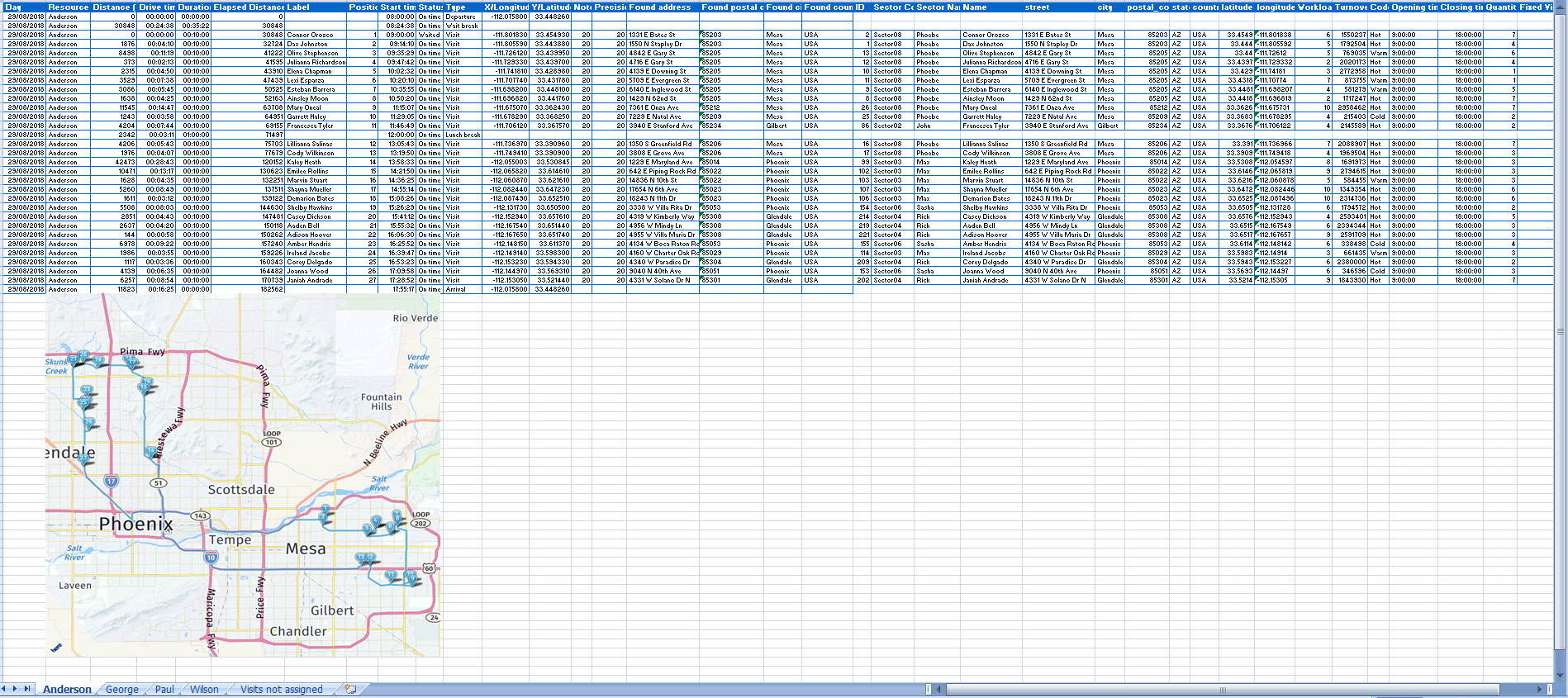 Export of the routes plan in iCal format for one or several days
Send routes plan by email to resources in iCal format to enable automated filling of your chosen agenda (Microsoft Outlook, Google Agenda, etc.)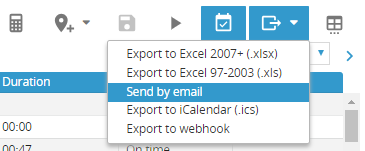 Use of the results
Use of iCal files into planning tools (Microsoft Outlook, Google Agenda, etc.), included app mobile
Use of the informations of geolocation of addresses of visites associated to the events created into the plannings for the navigation via your dedicated apps (Google Maps, Waze, Here Maps, etc.)


 Route fulfilment and fleet tracking
Fulfilment page
This page tracks route fulfilment as and when it is updated with information uploaded by TourSolver mobile app users.
Selection form showing characteristics and fulfilment information for each step along the route.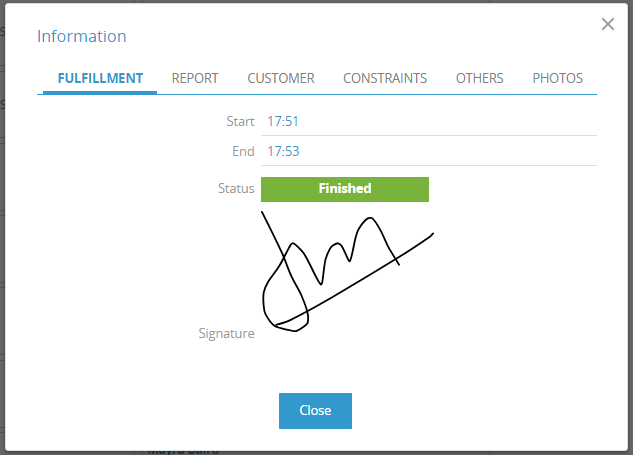 List view
List view presents route fulfilment tracking for one TourSolver mobile app user at a time, and for a given date.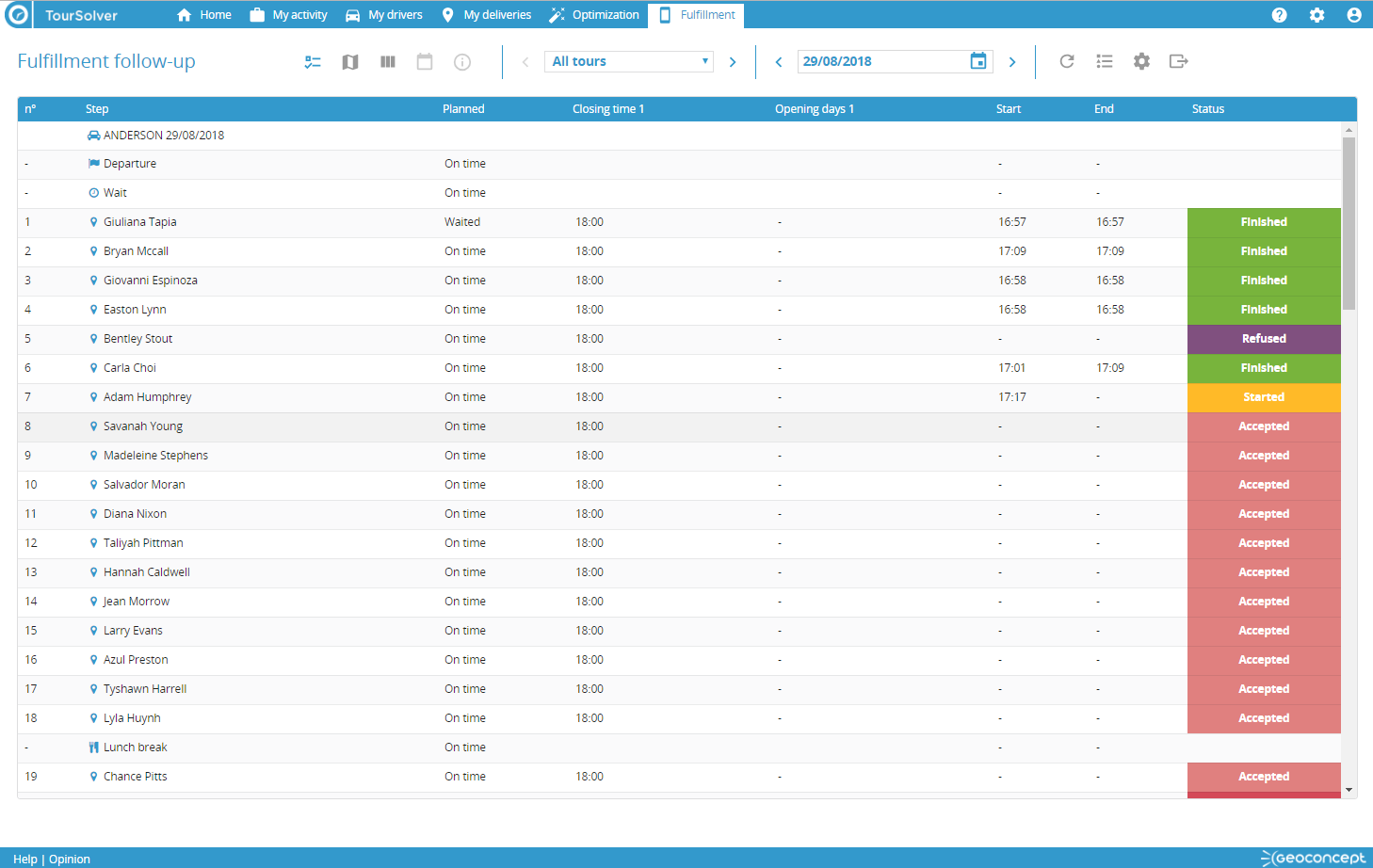 Map view
Map view presents route fulfilment tracking for one or several TourSolver mobile app users, and on a given date, with real time resource geolocation, and access to the collected positions history for the day.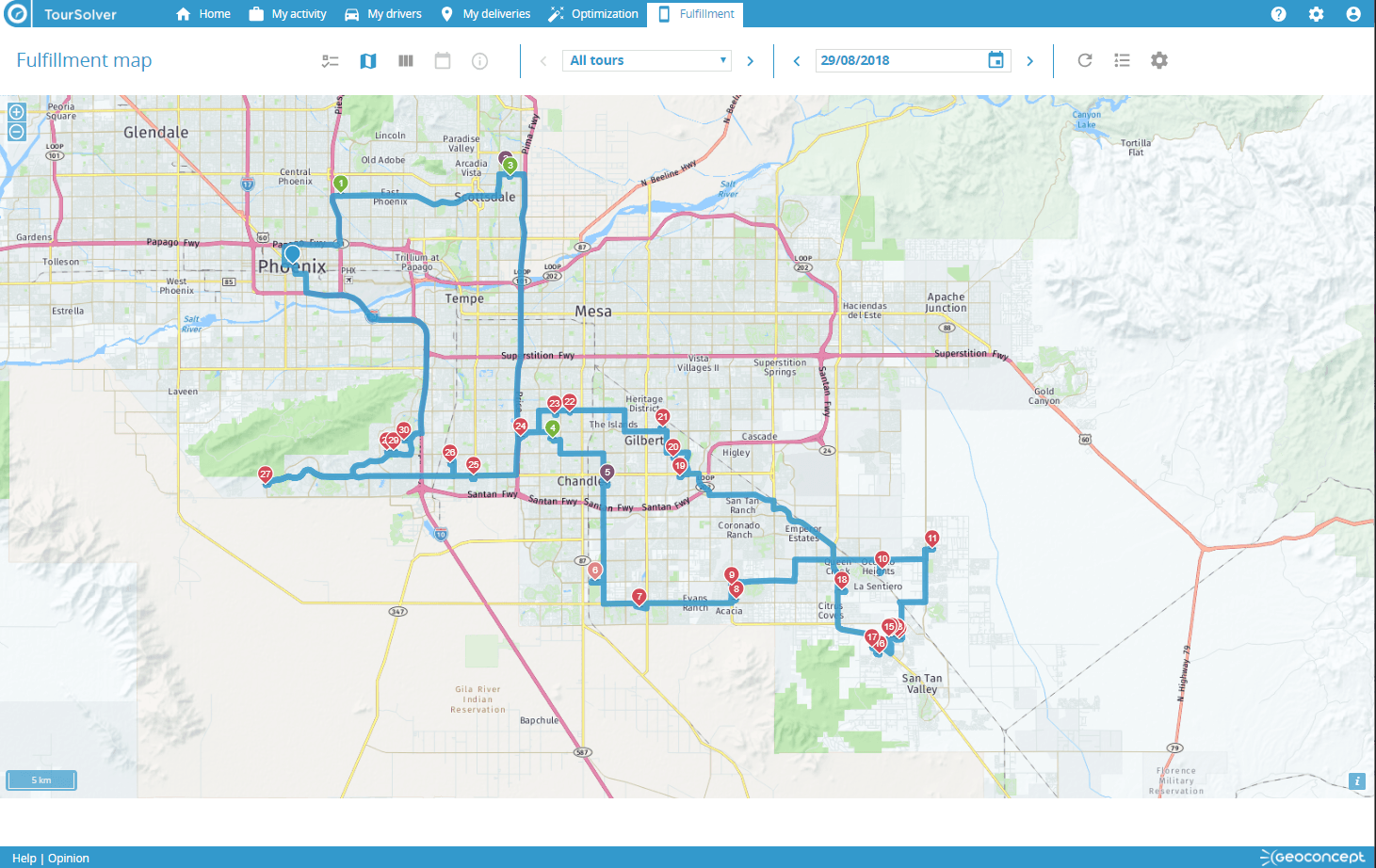 ​​
Table view
Table view shows route fulfilment tracking information for one of the TourSolver mobile app users, and at a given date, depending on the fulfilment status for each visit.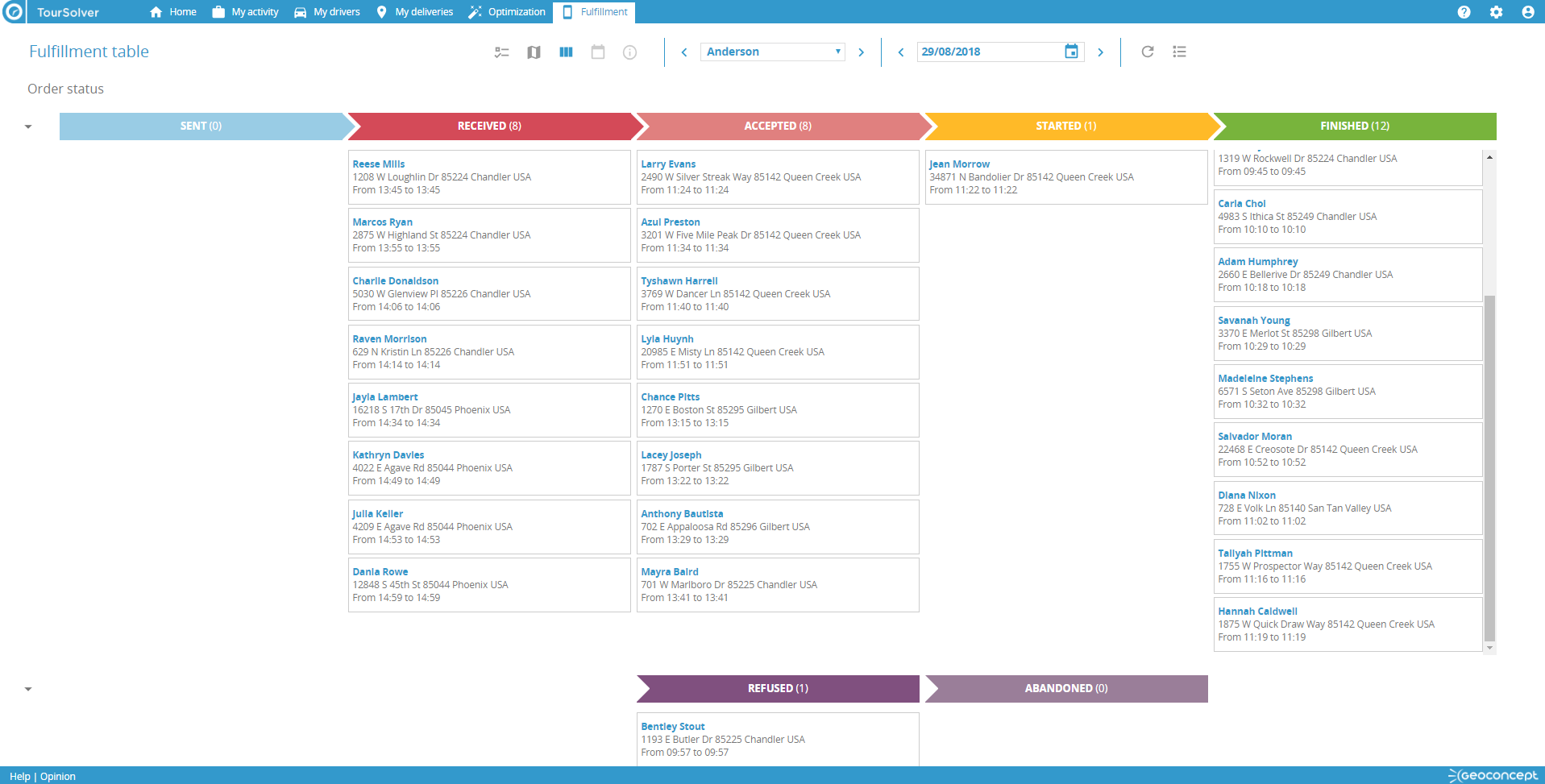 Simulations management
Saving and history of simulations of route optimisations completed   

From the home screen, access the list of recent simulations or the full list of all simulations, for loading or deletion.

Configuration
Interface to configure and personalize the mobile app user interface
Configuration of route export to the WebFleet Solutions fleet management system
Configuration of route export to a third party application, using the Webhooks API and operating principles
Customer experience reporting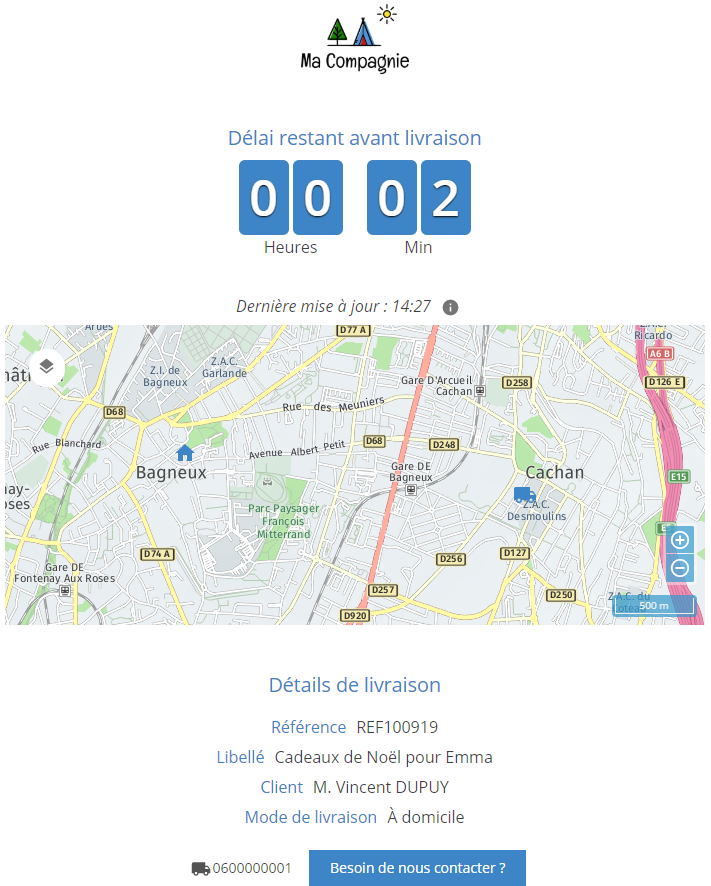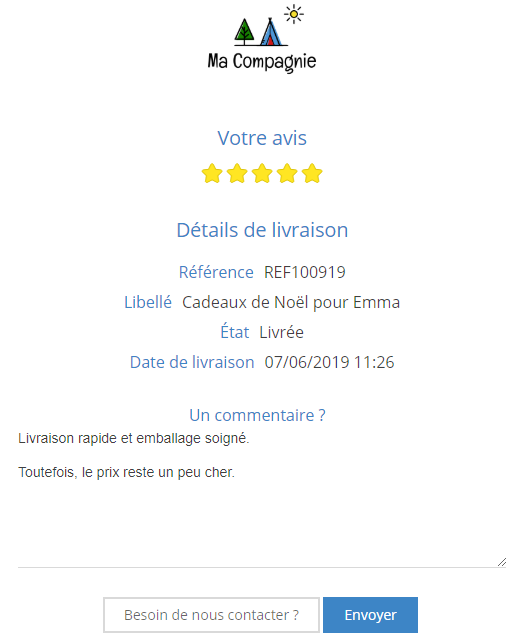 General principles
«Customer experience» notifications allow your ustomers to stay in touch, receive information and communicate with your transport or maintenance services on the day a visit or intervention is scheduled to take place.
These notifications are necessarily linked to the utilisation by your resources in the field of the TourSolver Mobile application.
These alerts are sent by email or text message via TourSolver without any dedicated connector or link. Your customer receives a clickable link taking them to a customized page showing your company logo.
Two types of message can be sent:

Upcoming arrival or ETA (Estimated Time Arrival) when the driver or technician signals on TourSolver Mobile that the preceding intervention has finished the next customer is then notified the agent is on their way, and that the visit it therefore imminent.

TourSolver Mobile screen view showing confirmation of delivery details

Example of SMS received by the customer to confirm the transporter's agreement to deliver and enable tracking of the delivery in real time

End of visit, when the driver or technician signals on TourSolver Mobile that the previous intervention is terminated, the customer who has been visited is notified of the end of the visit and can rate the intervention by recording a score.

TourSolver Mobile screen view showing customer signature on completion of delivery

Example of SMS received by the customer on completion of delivery
The data to be imported
So that your customers can receive such notifications, you will need to import the data to contact them: a telephone number, or email address.

You can configure the ETA page, which can in turn be consulted by the customer as soon as they have placed their order.
Customising the notification pages.
The configuration page can be accessed from the parameters pane.

These screens can be customised with your company logo using either a URL link or by importing a file directly from your computer. The font colour to be applied to your pages on screen can also be changed as required.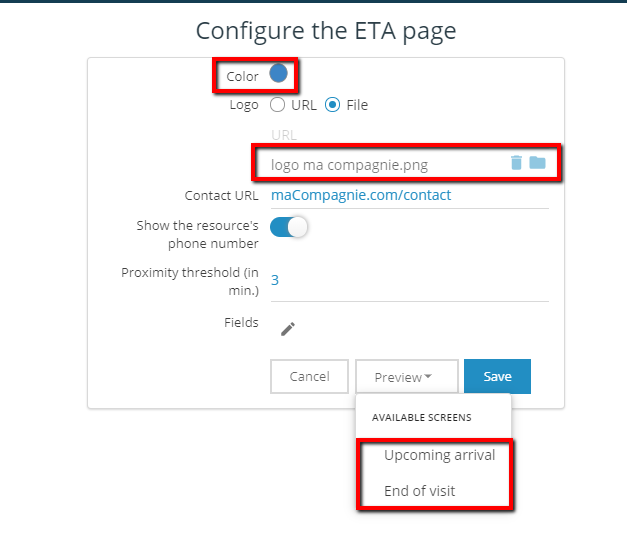 This configuration page provides access to several parameters to configure:

Screen display of a contact button that will facilitate the sending of queries by customers who want to communicate during the delivery phase;
Optional display of the telephone number for the resource in charge of the delivery.
A proximity threshold, beneath which the customer can benefit from GPS tracking of their order on a mapping document and consult the telephone number of the courier if they have made this available;
The display of one or several fields sourced by the visits file you have imported for one of your simulations. This will enable the customer to view, for example, the quantity ordered, directly on these screens.
This page will also allow you to preview the Upcoming arrival (ETA) and End of visit screens as they will be viewable by your customers.

On the End of visit screen, the end customer can give their rating concerning the delivery of the product received and score their experience with a one-to-five star rating, leaving a message if desired.
Adding ETA and End of visit links to your emails and text messages
The ETA and End of visit links must be added in the email or SMS template. To do this, go into the email or text message configuration menu (depending on what you want to send your customers).
Please note: sending text messages is an additional, and invoiceable, functionality in TourSolver.
Click for more details on how to configure emails and SMS.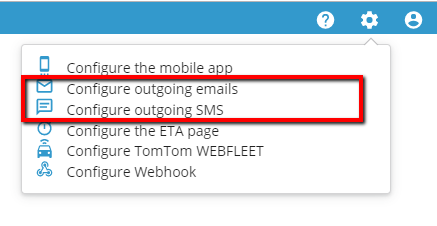 Use the insertion function and select:

the ETA link where the configuration is applied within the Upcoming arrival section
the customer satisfaction link in the End of visit section

These links will appear in the SMS or emails received by your customers at different stages of their delivery.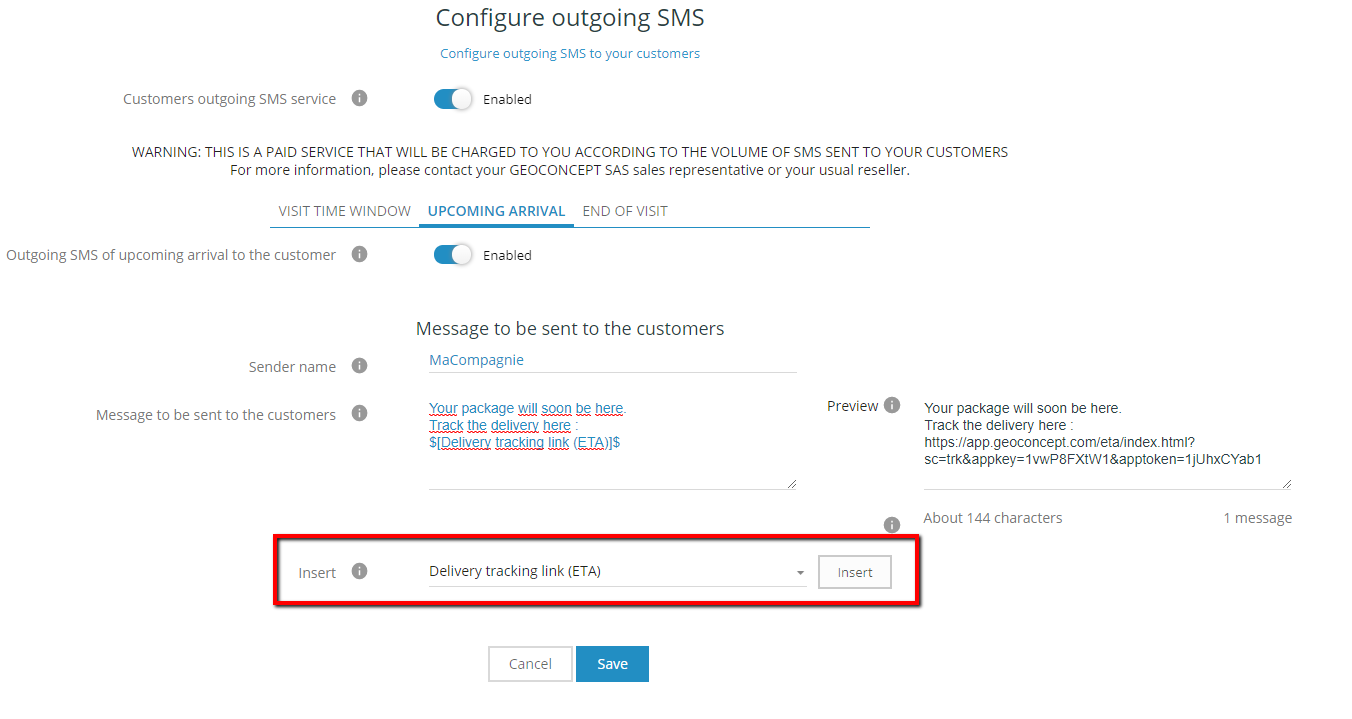 Configuration menu for sending an SMS to signal upcoming arrival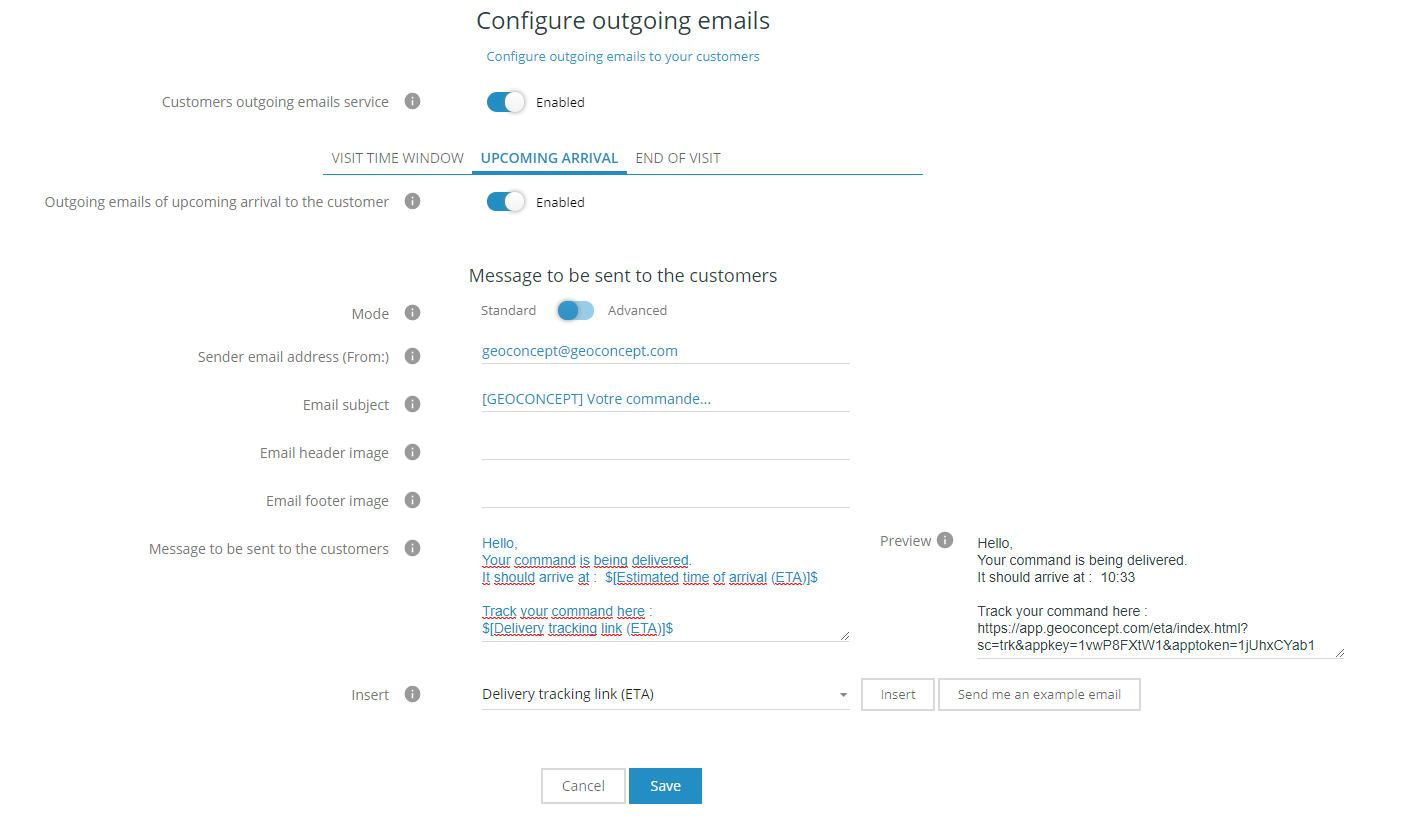 Configuration menu for sending an email to signal upcoming arrival

 Mobile App communicating fulfilment information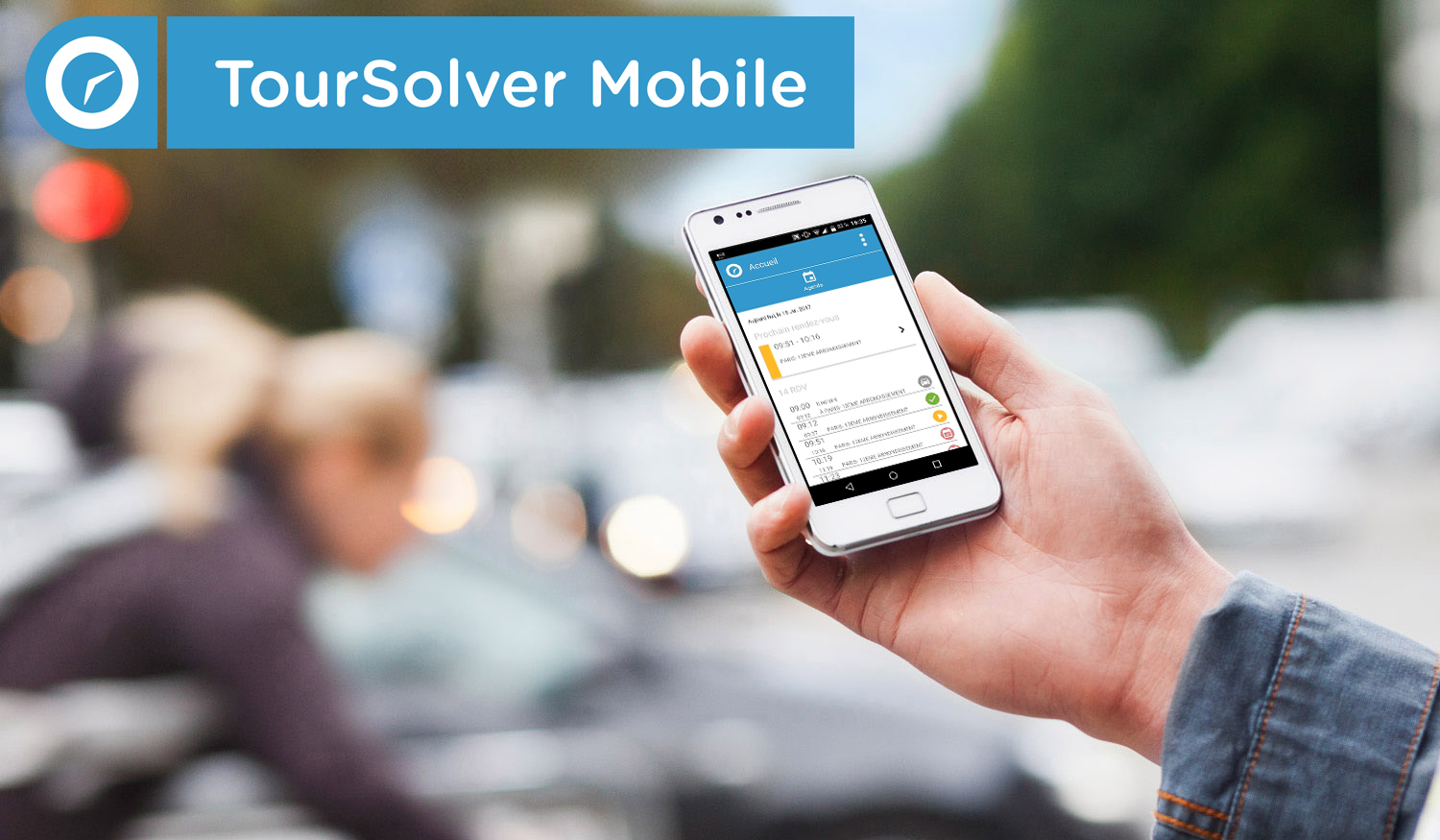 This mobile app also allows resources to interact from the field with TourSolver: agendas, visits outstanding, visit sheets, fulfilment status of visits, signature, photos, personalized reporting, tracking...
Information is uploaded to the planner who monitors operations in real time, and takes operational decisions as necessary.

 Route optimization API from your application

An API is now available so you can harness the power of the route optimisation engine that drives TourSolver, whether you are using a ERP, CRM, TMS, FMS, WMS or any other application.
Now you can see results of optimisations performed via the TourSolver API directly in the user interface of TourSolver. Optimise your routes automatically from an external application, and use these results directly in TourSolver!

Click here to go straight to the TourSolver API documentation and try it out, and create a TourSolver user account. Then contact us to obtain your API software login. We will help you integrate the API using JavaScript or Java examples… 

COMING SOON IN TOURSOLVER
Below is a foretaste of functionalities under development, available soon in TourSolver:
Coming soon...
Would you like to know more about our product road map?
Our product managers are at your disposal to unveil our roadmap for the coming months and years. 
Contact us!
Join us and help develop the TourSolver experience!
Have you any ideas or suggestions? We would be delighted to receive feedback:
Send-us a message  
(Specify "I have got a question, idea or opinion" in the Request type field, and then fill in the Comment field.)