Exporting routes to TomTom WEBFLEET
(available in the PREMIUM version)
Basic principles
If you use TomTom WEBFLEET as your fleet management system (FMS), and if you have the PREMIUM version of TourSolver, you can send routes to any TomTom devices your vehicles may be equipped with from TourSolver, exporting visits from the optimization results page, with just one click.
Minimum configuration

You must have TourSolver PREMIUM to access the TomTom WEBFLEET export configuration. Contact your TourSolver sales team for more information about how to obtain TourSolver PREMIUM.
To be able to send all routes with one click, you need to prepare the ground beforehand:
In TomTom WEBFLEET, create a user account that will be used by the TourSolver user to send their routes to WEBFLEET. This account should have certain privileges assigned to it to do this. Find out more >
Configure the TomTom WEBFLEET account in TourSolver, and then associate the TomTom WEBFLEET user accounts to your TourSolver resources so each user account corresponds to a vehicle to which you want to send planned routes.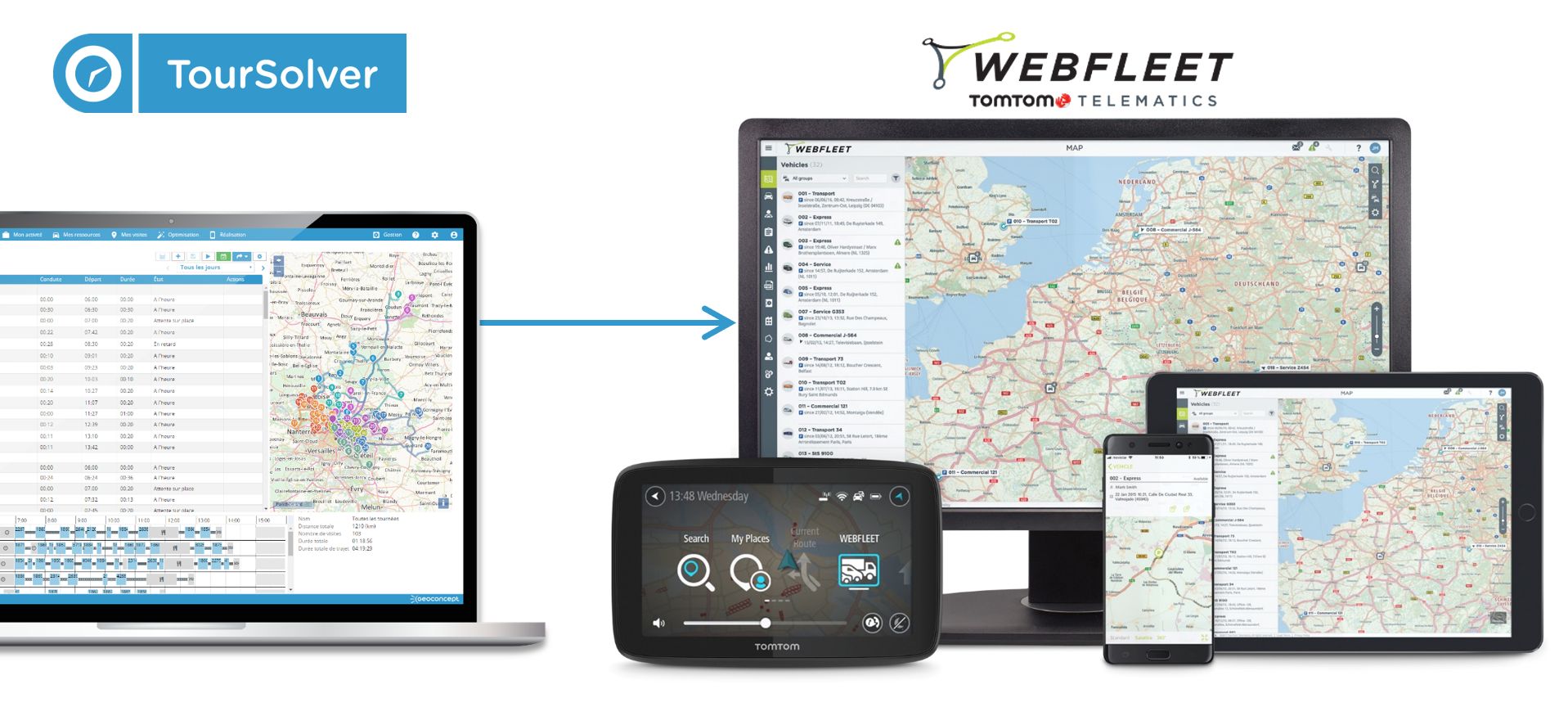 Utilization
Configure TomTom WEBFLEET in TourSolver
The TourSolver Configuration menu is accessed at the top right of the application, giving access to the Configure TomTom WEBFLEET functionality:


If you do not have TourSolver PREMIUM the following message displays.

Contact your TourSolver sales team if you would like to purchase TourSolver PREMIUM, and use TomTom WEBFLEET export.
The configuration window requests you define: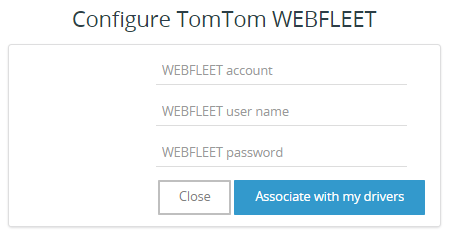 Once these parameters have been entered, the button is used to save the configuration, and suggests continuing directly with the association of resources to vehicles in the fleet handled in TomTom WEBFLEET. The application then automatically takes you to the My Resources page so you can choose each resource to associate to a TomTom WEBFLEET vehicle.
Once you have validated, a message confirms that TomTom WEBFLEET has been correctly configured.
Associating resources to vehicles
Following your configuration and application of the TomTom WEBFLEET export, you need to associate TourSolver resources to vehicles in the fleet handled in TomTom WEBFLEET.
To do this:
Go into the My Resources page (or another term depending on the terminology chosen in the My Activity page)
Click on a resource in a team defined in the My Resources page
Below the form describing the resource, set the User of TomTom WEBFLEET parameter to Enabled
A Vehicle identifier in TomTom WEBFLEET parameter displays and can be assigned
Remember to click on Save once these modifications have been applied to the resource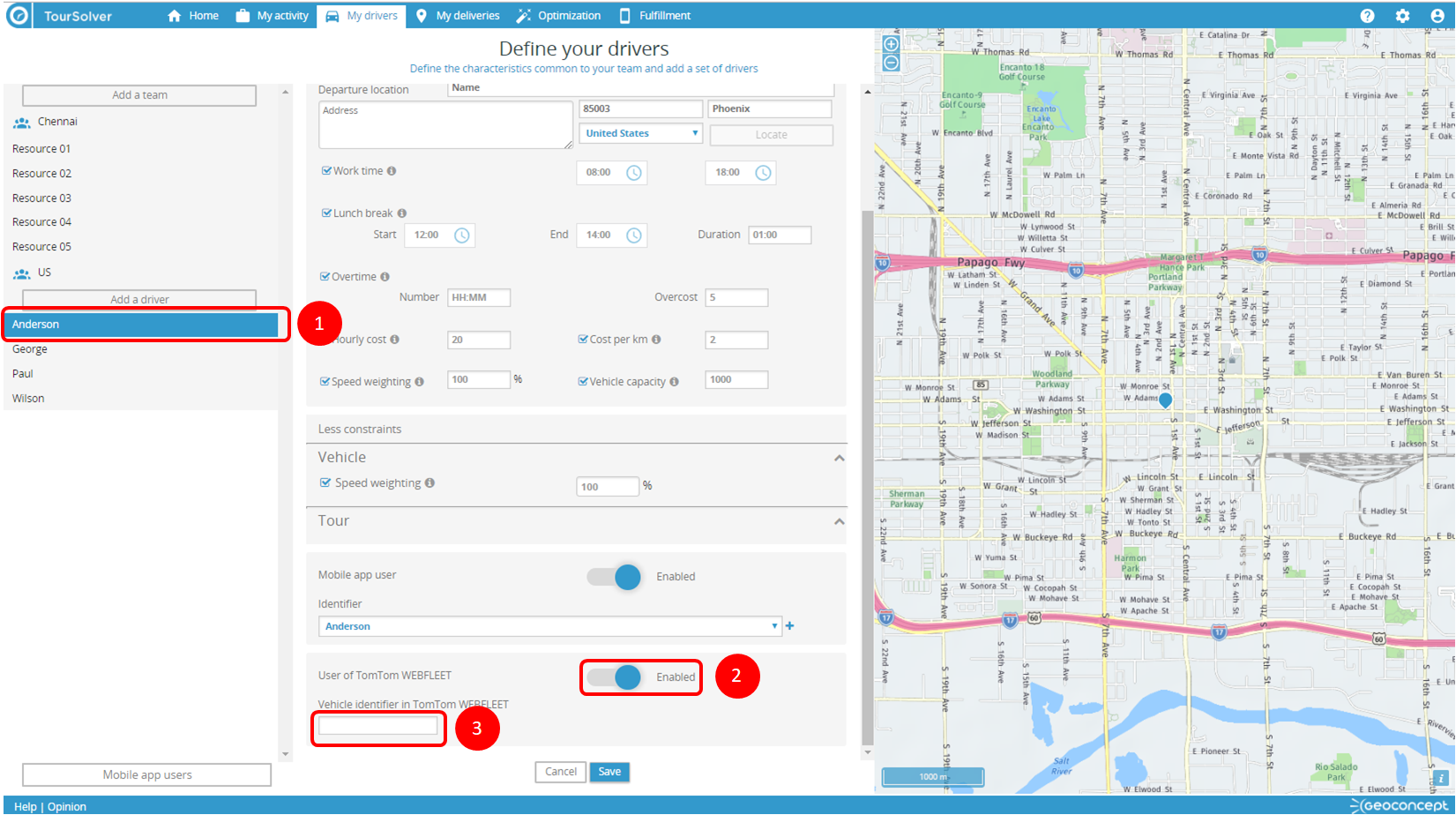 Repeat operations 2-5 above as many times as needed to associate all your TomTom WEBFLEET vehicles.
Export your routes to TomTom WEBFLEET
Once both configuration and associations between resources and vehicles have been completed, you can export the optimized routes in ONE CLICK, from the Optimization page.
From the Optimization page that presents the optimization results, click on the Export button to export to TomTom WEBFLEET.


The TomTom WEBFLEET export is only proposed if the configuration has been completed and at least one vehicle has been associated to a TourSolver resource.
Happy TourSolving!
---
> THIS ARTICLE MAY ALSO BE OF INTEREST: Exporting routes