TourSolver Help menu
Basic principles

 TourSolver has a "?" menu at the top right of the application interface linking to a series of short cuts to:
In-line Help to discover the application
Help contents for the toursolver.com site
User feedback point
Access to Technical Support

Utilisation
Discover this page
Help with discovering each page in TourSolver is displayed the first time you use the application. It can also be displayed at any time by clicking in the help menu on the Discover this page function. Follow the step-by-step advice given on the page currently displayed.

FAQ and documentation
The TourSolver Help Welcome page, including Frequently Asked Questions and help with function use, is directly accessible from the Help menu via the FAQ and documentation function.
Send an opinion, an idea
If you want to give feedback or ask a question, or share your experience using TourSolver, use the Send an opinion, an idea function. A window opens so you can enter your comments or click on a number of stars to provide a rating. Next, click on , and your message will be sent to the TourSolver team, then on  to return to the previous page.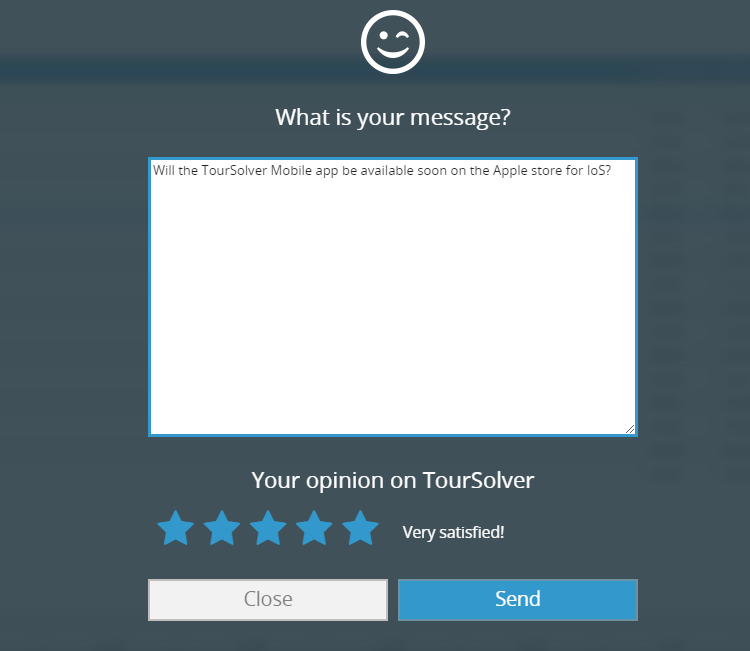 Technical support
You can send messages to the Technical support team at any time by clicking on the Technical support function. A new email is then opened in your messaging application and you can type in a message you want to send.
Happy TourSolving!
---